AWC Detroit Unveils Its First "Little Library"
AWC Detroit launched its literacy initiative at a winter mixer on Feb. 7, 2018 by unveiling its first "little library." The well-attended event at the historic Detroit home of Colleen Robar, owner of Robar PR, gave members an opportunity to learn about Detroit Little Libraries, a grassroots group partnering with the national Little Free Library program to promote reading, community involvement and neighborhood pride.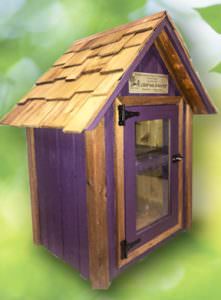 "Our chapter is making a commitment to promote literacy, said Deniella Ortiz-Lalain, president of AWC Detroit, at the unveiling. "As professional communicators, we understand the vital link between literacy and success. It's our hope that we can help empower individuals to increase their reading skills through the availability of free books. We are excited for this program. It allows our members the opportunity to participate in an important cause."
AWC Detroit members brought books to stock the library and voted to install it on the grounds of Mercy Education Project located at 1450 Howard St, Detroit. The freestanding enclosure, a 3' by 3' structure that can contain as many as 30 books, was constructed by AWC Detroit friend and volunteer Wesley Krumel.
More AWC-sponsored "little libraries" are planned. Richard Kollins, chair of the Detroit Public Library's National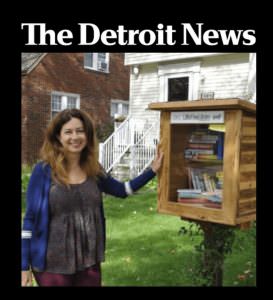 Automotive Historical Collection (NAHC), announced that the NAHC will provide funding for a joint project with AWC Detroit to install five Detroit Little Free Libraries at select Detroit Public Library neighborhood branches.
Guest speaker Kim Kozlowski, founder of Detroit Little Free Libraries and higher education reporter at the Detroit News, shared her story of bringing the little library movement to the city of Detroit. "I am so appreciative of AWC Detroit's support of this program and equally excited about the joint project with the Detroit Public Library's National Automotive Historical Collection. We are well on our way to making Detroit the world capital of Little Free Libraries," she said.
2018 Installation Events
Library #1 – June 15 at the Mercy Education Project, Detroit
Library #2 – July 11 at the Redford Detroit Public Library
Library #3 – August 24 at the Parkman Detroit Public Library
Library #4 – September at the Sherwood Forest Detroit Public Library
Library #5 – October at the Hype Teen Center Detroit Public Library
To volunteer, contact Melinda Kollins at info@detroitwomcom.org.
AWC Detroit is encouraging all members and future members to become involved in the Little Libraries project. To donate books or learn how you can support our advocacy initiatives, contact the AWC Detroit office at info@womcomdetroit.org or (313) 327-2256.