Jessica McCall is a vice president of marketing and external affairs for Goodwill Industries of Greater Detroit. She has also used her talents to serve in city, state and presidential administrations and campaigns. She recently returned to Detroit where she will continue her life's work – improving the lives of others.
Name: Jessica McCall
Title: Vice President – Marketing and External Affairs
Company/Employer: Goodwill Industries of Greater Detroit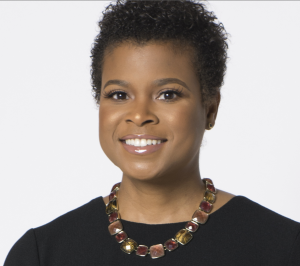 Career: Whether I'm working for an elected official or a non-profit, my work must center around improving people's quality of life. Currently, I have the honor of telling the story and giving a voice to the men and women of metro Detroit who've been chronically underserved and underrepresented.
Education: Michigan State University – Bachelor of Science in Merchandising Management
What You Should Know: In addition to communications, I'm also a strategist; if you're not sure how to make it happen, I can figure out how to get it done. Having managed the days and lives of a handful of celebrities, a mayor, governor, US Secretary, First Lady and US President, I'm exceptionally (some might say annoyingly) skilled at logistics and time-management. I have also served at almost every level of government including:
Granholm Campaign/Administration
Obama Campaigns 2008 and 2012
Obama White House/US Department of Health and Human Services
Duggan Administration
AWC Focus: I was introduced to AWC by Marcia Danner. I'm looking forward to sharing AWC with other young women in Communications, PR and Marketing who have recently returned or moved to Detroit. Excited to support other women in their professional endeavors.
Personal:
Family and hometown – Proud daughter who's raised two lovely parents in Farmington Hills.
Interests – I actually really love working and I couldn't be more interested and invested in the work I'm doing right now at Goodwill Detroit. Outside of the office, I enjoy learning about people over great food and wine. My goal is to have one dinner a week with a friend or someone new.
Causes/volunteer service – Organizing women around issues that are important to our advancement and creating spaces where we can live our best lives and be our best selves. Volunteering my time to getting more women elected into office.