Name: Julie Fracker
Title: Director of Communications
Company/Employer: Cranbrook Academy of Art and Art Museum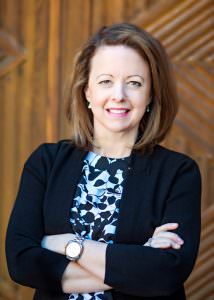 Career: As a communications professional with two decades of experience, I've helped educational institutions, art museums, hospitals, Fortune 500 companies and small independent clients leverage their individual stories to receive the maximum impact with their target audience. That includes doing so through writing, media relations, content marketing, social media management, and much more.
Education: A 1998 graduate of Western Michigan University with degrees in both Public Relations and English Literature.
What You Should Know:
As a department of one, oversaw all communications activities for 53 (and counting!) new exhibitions at Cranbrook Art Museum, including the groundbreaking Nick Cave: Here Hear.
While serving in the media relations department at Kmart Corporation in Troy, received a call that Michael Moore was in the lobby to film a scene for his film "Bowling for Columbine." Helped to craft a response and took calls from national press outlets announcing our decision to discontinue handgun ammunition sales at our stores.
Stayed with Kmart through the bankruptcy filing, but chose not to relocate with the company to Illinois. Instead, launched a new career as a freelance writer for national trade magazines, securing cover stories in publications across the United States for a number of years.
AWC Focus: As a department of one (with one technical support person) I'm always looking to learn from my peers. The communications landscape is so radically different than it was even five years ago that I think we all need to work together to stay on top of current trends and find out how to best reach our audiences. I'm looking to get to know others, make connections, and help younger communicators.
Personal:
Family and hometown

Native metro-Detroiter; grew up on the east side (Macomb County) but now live with my husband and two teenage sons in Oxford, Michigan. Married to a fellow communicator, my husband is the Director of Broadcasting and In-Game Entertainment for the Detroit Tigers.

Interests

Between my job and my husband's job, we are lucky enough to spend a lot of time at art openings and baseball games. In our free time, we manage the very-busy schedules of our boys, which means, a lot of cross-country, track, lacrosse and basketball games.

Causes/volunteer service

In addition to serving in a variety of volunteer positions through our sons' school and athletic programs, I also hold an elected office as trustee of Oxford Public Library. Literacy and our library systems are critically important issues to me.