By Beth Monicatti-Blank, President, All Seasons Communications
"We live here. We love it. Winter is more fun on a snowmobile."
The exceptional branding copy that All Seasons Communications (ASC) created years ago for the International Snowmobile Manufacturers Association (ISMA) appeals to snowbelt recreation seekers as much now as then. It's the theme of the new Go Snowmobiling campaign website highlighting the sport as a fun, family activity.
ISMA and the four manufacturers of snowmobiles — Arctic Cat, Bombardier Recreational Products (Ski-Doo), Polaris Industries and Yamaha Motor Corporation, USA. — called upon our ad agency to develop a site that would serve the needs of committed enthusiasts and attract a new generation of snowmobilers.
Here's how the ASC team approached the project:
Define Purpose and Audience
The Go Snowmobiling website is intended to be the comprehensive source for any and all who are looking for information about snowmobiling in the United States and Canada. Our goal is to provide the best information for both new and seasoned snowmobilers.
Research and Write Content
We researched and compiled everything novice and experienced snowmobilers would need or want to know. As an information-centric website, Go Snowmobiling helps snowmobilers learn the basics of snowmobiling and safety, and find dealers, rentals, destinations, clubs and events.
Design for Navigation Ease and Action
To present all aspects of the information in a user-friendly manner, the team designed a well-organized tab bar and allowed for multiple ways to access information.
We inserted call-to-action prompts for visitors to access directories, manuals and instructional videos, and download "Let It Snow" photos and snowmobiling club resources.
Use Strong Visuals and Video
This website was recreated in a photography heavy layout. Thankfully the client takes hundreds of pictures per year of the new snowmobiles and the groups of people that love them. It makes our job so much easier when we have quality, appropriate photography to use on the site.
The subject matter also lends itself to action footage – from a video extolling the snowmobile lifestyle to instructional videos on all aspects of snowmobiling. Also included are safety training modules — something the client takes very seriously.
Enhance the Experience
By utilizing responsive design, the web pages detect the visitor's screen size and orientation and change the layout for optimal viewing on any device.
Target SEO elements to drive seasoned and new snowmobilers
By strategically placing search-engine keywords within the copy and photos on the website and drafting concise titles and page descriptions for each web page, the site was built to draw both experienced snowmobilers and those new to the lifestyle.
These elements have enabled us to capture the spirit, camaraderie and excitement of snowmobiling in an informative and beautiful new website for a long-standing client.
# # #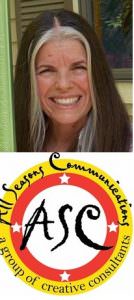 Beth Monicatti Blank, president of All Seasons Communications (ASC) in Romeo, Mich., is in charge of all agency operations. She handles new business and takes the lead in client account management, including media buying and placement.
ASC is the advertising agency to turn to for all your marketing and communications needs, including traditional and digital advertising, public relations, website development, social media campaigns, publishing and video production. We're a small, full-service agency filled with talented creative professionals.
Contact: bmonicattiblank@allseasonscommunications.com.
Visit: ASC ad agency site and ISMA Go Snowmobiling.