By Patricia Anstett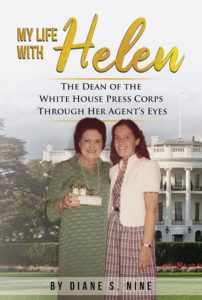 Thousands of American girls have grown up wanting to be journalists because of Helen Thomas, a legendary dean of the White House Press Corps. Thomas, the long-time Washington, D.C. bureau chief for United Press International, a Detroiter, was a tough questioner, grilling presidents from John F. Kennedy through Barack Obama.
"I don't think a tough question is disrespectful," said Thomas, whose quotes have become a Goggle search topic. Suffice it to say that when Cuban leader Fidel Castro was asked in the early 2000s what the difference was between democracy in Cuba and democracy in the United States, Castro reportedly replied, "I don't have to answer questions from Helen Thomas."
Thomas, an Arab American who attended Detroit's Eastern High School and Wayne State University, racked up a slew of firsts as a female journalist. She was the first female officer of the National Press Club; the first woman officer and later president of the White House Correspondents Association; and in 1976, she was named one of the World Almanac's 25 Most Influential Women in America. She was also a member of the Association for Women in Communications and recipient of its Headliner award.
A new book due out in March by Diane Nine, Thomas' long-time press agent, recounts Thomas' long career and forced retirement in 2010 over her controversial comments about Jews and Israel and statements that "Congress, the White House, Hollywood and Wall Street are owned by Zionists.''
AWC Detroit member Patricia Anstett recently interviewed Nine about her book. Here's an excerpt of the conversation.
Q: Describe how Thomas mentored you beyond generously letting you stay in her home during the early years of your career in Washington, D.C.
A: Helen was like a second mother to me and reinforced the lessons my parents taught me: Be kind to everyone, even those without good intentions. Believe in yourself, and never give up. If a door is closed, just knock on it, and walk through. Helen also taught me the importance of paying attention to our elected officials. She always said that while some may fall short of expectations, most have good intentions. And, finally, Helen taught me the value of the media as the 4th branch of government.
Q: As a communications professional, what skills and values did Helen teach you?
A: I truly learned the value of asking questions, and double and triple checking the answers. Helen used to say that even if her own mother told her something, she would check it with two other sources.
Q: Helen was a journalist at a time when reporters were schooled to be neutral and not express their opinions. What changed, in the profession or in her, that made her speak out, particularly on issues about the Middle East?
A: I think journalism changed as Helen grew older. Opinions began replacing facts, and Helen succumbed to these changes when she spoke. However, until Helen wrote an opinion column toward the end of her career, she always tried to keep her opinions out of her copy. She used to say, "Just the facts. They speak for themselves."
Q: How do you hope history remembers her?
A: I hope history remembers Helen as a great, trailblazing journalist. She used to say that she wanted one word on her tombstone: WHY?
###
Patricia Anstett is a medical writer, author, newspaper reporter and editor who worked in Chicago, Washington, D.C. and Detroit, the last 22 years as medical writer at the Detroit Free Press. She is a member of the Michigan Journalism Hall of Fame and has been named an outstanding alumni in Michigan State University's College of Communication Arts. She lives in Grosse Pointe Woods with her husband, Tim Kiska, also a journalist, and has three grown children.
For more information about Pat and her latest book, go to bcsurgerystories.com.