AWC Detroit is "Driving Literacy in the D"
AWC Detroit launched its "Driving Literacy in the D" initiative in 2018. We are very proud of our work in 2018-2019 making a difference in improving Detroit area literacy. We are also shining a light on other member-led successful Detroit area literacy programs in schools, libraries and non-profits.
To get involved, contact Pat Anstett at info@womcomdetroit.org.
2020 Literacy Activities
We are thrilled to be supporting the Mercy Education Project in their success
We have continued to support MEP in their advancement of women and girls by lending our communications, marketing and PR talents.
We are proud to have provided writing, editing and research in the final stages of a $100,000 two-year grant application to Verizon to create a digital learning laboratory at MEP. MEP won this grant, one of only eight in the U.S. and the only one in Michigan! Great work, Pat Anstett, for supporting this effort.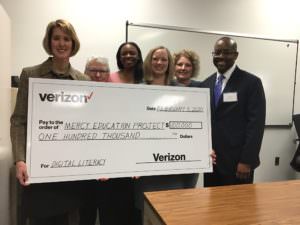 A team of AWC volunteers worked hard in January and February to create a wealth of media materials for MEP to announce and promote the Verizon grant. Big kudos to the team that included Liz Katz, Cindy Orlandi, Liz Russell and Pat Anstett, with help from Carol Gillis, Deniella Ortiz-Lalain and consultant Jennifer Cherry Foster.
Pat Anstett has volunteered to help them further with other writing, editing and grant-writing tasks. She is currently working with two student teams from Wayne State University and the University of Michigan to revamp the MEP web site.
"This initiative complements AWC Detroit's mission to support the professional and personal growth of women and girls, especially in areas of communications. In the past year we supported MEP with various communications expertise. We appreciate the important role MEP plays in educating under-served women and training them for today's job market." – AWC Chapter President, Deniella Ortiz-Lalain
2019 Literacy Activities
AWC Detroit's Advocacy Committee Pledges a "Year of Service" to the Mercy Education Project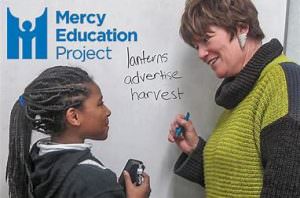 Several AWC Detroit members have stepped up to contribute their time and talents to this great cause. We would like to acknowledge Pat Anstett's efforts especially! Since July, Pat has been volunteering in various ways. She has assisted with writing and data research for a recent grant submission and helped write the annual report. Pat will also be writing occasional updates on people and various MEP programs – so watch out for her reports. All of Pat's updates will be shared on our website and social media.
Ways to volunteer:
Support marketing and communications
Write or edit for grant proposals
Tutor
Be a guest presenter
Host a fundraising party
Assist with girls' activities
Chaperone a field trip
Continuing our Partnership with MEP
In June, AWC members met with the staff of the Mercy Education Project (MEP) to learn more about the amazing work they are doing and explored areas that AWC Detroit members can help support their mission with our skills. We are passionate about supporting the advancement of girls and women!
We also restocked the well-loved Little Free Library that we installed at MEP in 2018. It was a great event and we are in the process of developing specific plans to further support MEP.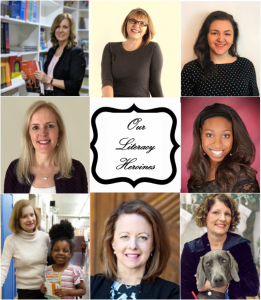 Literacy Heroines Honored
On May 14, we announced our member Literacy Heroines awards! Our literacy leaders are pictured on the poster:
Top Row: Joan Allesee, Melinda Kollins, Marissa Campo
Middle: Carol Gillis, Gabrielle Burgess-Smith
Bottom: Shari Cohen, Julie Fracker, Cindy Orlandi
They contributed to the success of our chapter's "Driving Literacy in the D" initiatives or served other literacy programs through libraries, schools and non-profit organizations.
The 2019 literacy heroines were honored at an awards program and networking event on June 13 at The Detroit Writing Room.
Joan Allesee, tutor trainer, e-course designer and board member of the Oakland Literacy Council, was named Literacy Champion to designate the highest level of literacy leadership.
Read here for more details on the literacy advancement contributions of our awardees.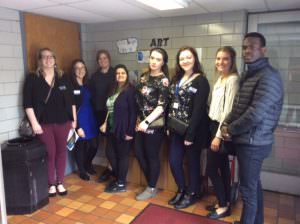 Walsh College Book Drive
In May, AWC student member Marissa Campo led a book drive event organized by Walsh College Student Life Coordinator Julie Battani.
Thanks to donations from Walsh students, family members and local companies, Marissa and the Walsh Marketing Club collected more than 600 books for the AWC literacy partnership with Westside Christian Academy.
"Working at Walsh College has shown me the need for high literacy skills. It's our hope that the books will inspire a greater love for reading," said Marissa.
In addition to sponsoring the book drive, Walsh College will be sending a representative to speak to the upper school at Westside Christian Academy about educational opportunities at their college.
Reading Circle at Westside
In March, AWC Detroit member and author, Cindy Orlandi, led reading circle events with the kids at Detroit's Westside Christian Academy with her dog, Bennie, at her side. Cindy created the "Love is a Dog and Some Crayons" Weimaraner Coloring Book (the book she used in the reading circles) to help raise funds for the Great Lakes Weimaraner Rescue.
Visit our events page for more information on upcoming literacy events in 2019.
2018 Activities
2018 was a great year for supporting literacy! We unveiled our first "little library" at a mixer event in Indian Village in February, 2018. This well-attended event gave members an opportunity to learn about Detroit Little Libraries, a grassroots group partnering with the national Little Free Library program to promote reading, community involvement and neighborhood pride.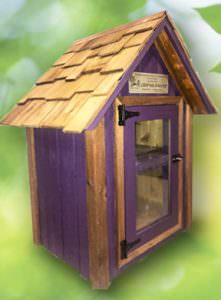 "Our chapter is making a commitment to promote literacy, said Deniella Ortiz-Lalain, president of AWC Detroit, at the unveiling. "As professional communicators, we understand the vital link between literacy and success. It's our hope that we can help empower individuals to increase their reading skills through the availability of free books. We are excited for this program. It allows our members the opportunity to participate in an important cause."
AWC Detroit members brought books to stock the first library, constructed by a friend of our organization, and voted to install it on the grounds of the Mercy Education Project located at 1450 Howard St, Detroit, whose mission we enthusiastically support.
Guest speaker Kim Kozlowski, founder of Detroit Little Free Libraries and higher education reporter at the Detroit News, shared her story of bringing the little library movement to the city of Detroit. "I am so appreciative of AWC Detroit's support of this program and equally excited about the joint project with the Detroit Public Library's National Automotive Historical Collection. We are well on our way to making Detroit the world capital of Little Free Libraries," she said.
More AWC-sponsored "little libraries" were planted throughout 2018. These additional libraries were funded by Detroit Public Library's National Library Automotive Historical Collection (NAHC), in a joint project with AWC Detroit to install four Detroit Little Free Libraries at select Detroit Public Library neighborhood branches.
2018 Little Free Library Installation Events
Library #1 – June 15 at the Mercy Education Project, Detroit
"We are THRILLED with our Little Library and the children's books have been flying off the shelves…. We remain quite honored to be the recipient of this wonderful complement to our work here…thanks once more for choosing MEP!" Kathryn Tanner, Executive Director, MEP
In partnership with the Detroit Public Library National Automotive History Collection:
We are excited and proud of our "Driving Literacy in the D" initiative in partnership with the National Automotive History Collection. Check out the four Little Free Library installations we did together on the site of Detroit Public Library branches.
Library #2 – July 11 at the Redford Detroit Public Library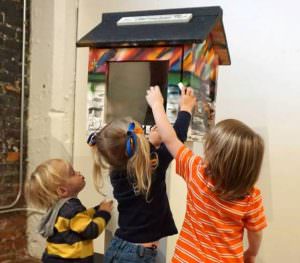 Marygrove College Donates to Our Driving Literacy in the D Initiative
During literacy month (July 2018), Marygrove College donated a wealth of books to our Little Free Libraries! We were so honored that they joined in the effort to help Detroit readers become leaders!
Library #3 – August 24 at the Parkman Detroit Public Library
Library #4 – September 22 at the Lincoln Detroit Public Library
Library #5 – October at the Hype Teen Center Detroit Public Library
AWC Detroit encourages all members and future members to become involved in its advocacy efforts. To learn how you can lend your support, contact Melinda Kollins at info@detroitwomcom.org.