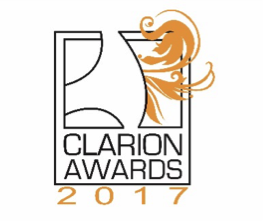 Joanne Gerstner, Sue Voyles, Nicole Scheffler and Kathleen Norton-Schock from the Detroit Chapter are among the 2017 Clarion Winners.
Gerstner's new book, "Back in the Game: Why Concussion Does Not Have to End Your Athletic Career," won in the nonfiction, non-technical category.
Voyles, president of Logos Communications, took top honors in the Special Promotion category for the "Safe Ride Program," a PR campaign for her client, Christensen Law.
Scheffler and Norton-Schock, Diva Tech Talk co-founders, won is the Radio category for both best Interview Program and Women's Issues coverage with their Women in Technology podcasts.
Enter Next Year:
Submission period is late January to mid-April. The call for applications includes more than 100 categories covering many aspects of advertising, education, fundraising, graphic design, internal communications, magazines, marketing, feature writing, online journalism, public relations, radio, television and special events. Peer judges review each submission based on budget size, so all entries are considered fairly.
To qualify, more than half of an entry must have been published, broadcast or implemented in the previous year. By completing the online entry forms and uploading any supporting materials, entries can be submitted in as little as 15 minutes. Visit the Clarion website for further details.
Recent Michigan Winners
DAC News Magazine (2014)
Diva Tech Talk Podcasts (2016, 2017)
Gerstner Media (2017)
Logos Communications (2015, 2016, 2017)
The Mars Agency (2015)
Michigan Radio (2014, 2015, 2016)
Michigan State University School of Journalism (2016)