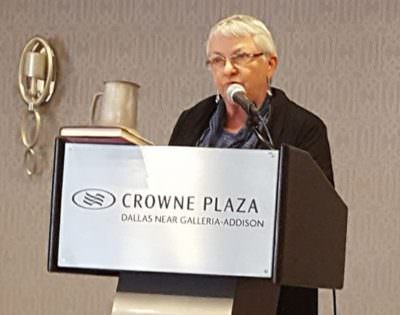 Excerpts from Pat Anstett's National Headliner acceptance speech on Sept. 19, 2017:
Over the years, the Association for Women in Communications always has been there for me. I became president of its Detroit chapter, which honored me with its Headliner and Diamond awards. I won a national Clarion award for my women's health reporting. AWC's Detroit chapter, blessed with a talented, loyal group of stalwarts, also was responsible for my induction earlier this year into the Michigan Journalism Hall of Fame.
AWC has been in my corner every step of the way. Last year, when I published a national book, "Breast Cancer Surgery and Reconstruction: What's Right for You,'' Joanne Gerstner, an AWC member honored at this conference with a Clarion award for a book she wrote on sports concussion, helped me create a Kickstarter campaign that raised $21,000 in 29 days. She also created my Web site and got me going on Twitter… Last year, I ranked 8th in the world on Twitter for two hashtags: #breastsurgery and #breastreconstruction, ranking up there with plastic surgeons whose earnings allow them to hire people to help them communicate. That kind of social media helped me sell books outside of the United States and gave me the pleasure of communicating with leading doctors, as well as patients and patient support groups in the field.
So lesson No. 1 from my career is to network. You may think you are too busy; you may not think you can afford the annual dues; you may think of yourself as a self-starter who earns much of what comes your way. But networking, and support of women's issues within the communications industry, never has been more important and here's why:
Equal pay remains a myth. Women still are not paid the same as men for the same work. In my field, the newspaper business, a recent survey by the Newspaper Guild in Detroit found that males make a median wage of $2.31 more an hour than women. Findings by the union at other newspapers found these same pay disparities. The difference may sound small but add up for a year and over a lifetime, affecting pensions.
The glass ceiling remains. In 2016, the number of women heading Fortune 500 firms declined to 21—not 21%, but 21 total. That's down from 24 the previous year. Think about it: a mere 4.2% of the 500 largest US companies by revenue are led by female CEOs. Even when women dominate a field, they often don't make it to the top. Consider the financial services and health care and social services industries. In the financial services industry, women make up 54.2 percent of the labor force, but are only 12.4 percent of executive officers, and 18.3 percent of board directors. In healthcare and social services, women account for 78.4 percent of the labor force but only 14.6 percent of executive officers and 12.4 percent of board directors.
Sexual harassment is still prevalent. The women at Fox News, as well as stories from California's Silicon Valley, are just two examples of the harassing work environment women face from their bosses, peers and contacts. They are hit on, ignored when they complain or fired for refusing to tolerate or to accommodate sexual advances from men.
Family-friendly work policies need to improve. I am a mother of three children, now grown, and I remember the man who always looked at his watch when I left work many days around 5:30 p.m., even though I arrived at work early and prepared, unlike the others who sauntered in 60 to 90 minutes later, looking for coffee to awaken them from their late night out the day before, and seeking a newspaper to scan the daily news. Today's workplace is not much different. Only when we promote more women will policies change to understand that family-friendly work practices keep the best people working hard and committed for years.
It's hard to face issues like these on your own. Groups like AWC will support you in good times and bad.
A speech like this, near the end of my career, makes a person reflect on what has been important, and the lessons learned. Here are three more from me:
It's important to find mentors. Take advantage of your school, work and personal relationships and find people whom you can talk to and learn from. Over the years, I have sought out the best in the business and benefitted from their advice. You are never too old to have a mentor, let alone be a mentor.
Make your strengths known. When I applied for my first editing job, the managing editor told me, "I wouldn't have thought of you." That never happened again. I might not have gotten all the promotions I sought, but I always was in the running and always was taken seriously. Don't be afraid to let others know you want to be promoted or are willing to do something new or different. The more skills you have, the more versatile a communicator you will be.
Develop an area of authority even though you must be a jack of all trades. Be the one people look to for answers. Develop your knowledge of this area fully. I did that by picking a new topic each year to focus on. Then I applied for fellowships, took time to attend mini medical schools, and went to conferences to learn more. Over the years, I picked more than a dozen new topics to learn: prostate cancer, genetics, health insurance, cultural gaps in medicine, reproductive medicine, and much more.
…I've had a great career, but this book, my second in four years, has been the single most fulfilling thing I've ever done. That said, I could not have done it without help from this group, other women friends in the field, and audiences like you who go on to tell others, including librarians, about [its] important messages.
So you see, I too, am still learning, still growing, still fulfilling myself, even in retirement. In five years, I've learned to tweet, manage a Web site, raise money and so much more, things I never did before.
I leave you with my hope you go home, network, mentor and do what you can to advance the cause of women in your workplace. Bring purpose and passion to everything you do.
A full text of Pat's speech is posted on LinkedIn. For details on tell-a-librarian and other news, go to her website, bcsurgerystories.com, and its Facebook counterpart, bcsurgerystories. Follow her on Twitter: @BCsurgstories.