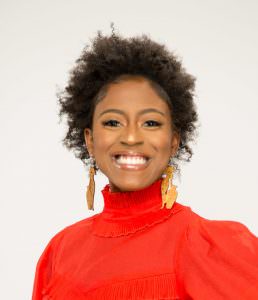 Name: Inglish Reed-Jones
Title: CEO & Founder
Company/Employer: MILLENNIALS-VS-EVERYBODY (MVE). MVE is a social enterprise that empowers and equips millennials with intellectual tools, professional resources and civic engagement opportunities.
Career: I am trailblazing entrepreneur skilled in leading teams, problem solving, community outreach, and program development. My experience as President of Chi Alpha Epsilon, international volunteering, and participation in various start-up programs has helped me shape a unique, in-depth approach to creating a successful organization. At MVE, I lead program development, event planning, and community relations.
Education:
In 2017, I received a bachelor's degree in communication from Bowling State University, with a focus on advocacy and emphasis on social service.
While at BGSU, I was:
President of Chi Alpha Epsilon National Honor Society
Founder of Accepted support group
Ambassador of School of Media & Communications
Association for Women and Communication Membership Chair
What You Should Know:
BMe Skillman Foundation Vanguard Fellow
Forbes Fellow
Brilliant House Board Member
Hanging in The D Spotlight feature
I moved to South Africa for three months and completed an internship at LifeLine in Johannesburg and volunteer work with the Amy Foundation in Cape Town.
AWC Focus:
I was introduced to AWC in college at Bowling Green State University; I found out about the Detroit chapter through Jennifer Foster. As a member of AWC, I would like to pour myself into the organization by networking and volunteering; I hope by being a member of AWC I am able to build meaningful relationships and gain new skills that can help me thrive professionally.
Personal:
Family and hometown – No kids, not married and Detroit, MI is my hometown
Interests –Traveling, community service, house music, reading/learning, public speaking, day trading
Causes/volunteer service – mental health, millennial empowerment, youth development. I am a board member for Brilliant Detroit and Mobilizing African American Communities. I also sit at Impact Table Detroit and Women Creating Caring Communities.