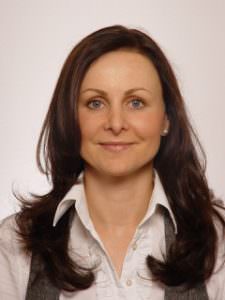 Name: Renata Kostěncová
Title: Marketing Professional
Company/Employer: Currently searching for new opportunities in the Greater Detroit area
Career: Experienced brand lead with expertise in developing processes and operational flows. Skilled in marketing management, negotiation, market planning, business planning, and sales. I also have a Master of Business Administration focused in Business, Management and Marketing, a background in biology and chemistry, and a demonstrated history of working in the pharmaceuticals industry. Authorized to work in the U.S. for any employer.
Education:
University of New York in Prague, Czech Republic, Master of Business Administration
University of West Bohemia, Pilsen, Czech Republic, Master's degree in biology and chemistry
What You Should Know:
I moved to the Greater Detroit area in January 2018 due to my husband's job for a car supplier.
I have been working in marketing and sales roles in the pharmaceutical industry for a decade, launching new products, leading teams and developing talents, negotiating with health care insurance companies, implementing ATL and BTL campaigns.
Currently I am interested in digital marketing and ready to start a communications career in a new field.
I like to learn new things in my professional life as well as in my private one, and new circumstances regarding my move to the U.S. gives me a lot of opportunities to do so every single day.
AWC Focus:
I would like to get know people from the communications field to have a chance to understand the local business environment for my future career. I want to get involved via networking events to make friends and have frank discussions about real options in the marketing field. I am also eager to volunteer for communication companies to get closer to the real marketing world in U.S.
Personal:
Family and hometown – I am married and have one wonderful daughter. We come from Prague in the Czech Republic. Currently, I live in Rochester Hills with lots of outdoor opportunities like parks, trails, and playgrounds. I enjoy living in our house, surrounded by nature. I especially like summer evenings on our patio.
Interests – I like any kind of sport that makes me feel healthy. However, I most enjoy running, swimming, skiing and yoga. I enjoy giving special attention to my family and friends when we share good food and have nice conversations inspiring each other. During long Michigan winters I've re-discovered the passion for good books – fiction & non-fiction too.
Causes/volunteer service – I support our daughter's school by volunteering during lunch breaks or special events. I am a member of a women's expat community sharing experiences, helping each other and participating in interesting events.