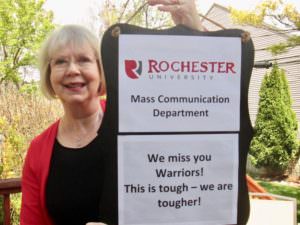 by Dr. Carol Cooper, Professor of Mass Communication & Chair, Department of Mass Communication, Rochester College
The email that Rochester University would close campus and go totally online came in the middle of Spring Break, when I was in New Orleans and the first case of COVID-19 was confirmed there that same day. It had begun. Closing campus meant two of my classes had to be moved online in three days. It was doable and I felt pretty good about everything. I was naïve to think I understood what "everything" meant.
Since March 10, like many AWC members, I've been receiving more information than I can process, but expected to act upon it. RU plans to resume campus life in the fall and what that will look like changes daily. Faculty ask questions. My students ask questions. How to decide which piece of information someone needs to know or how to anticipate the support someone needs in order to thrive is a moving target. I am exhausted from information overload and the constant resetting of goals. This is what I've discovered I must do to avoid being overwhelmed:
I send a follow-up email to the Zoom meeting presenter, summarizing the points I've heard and request a confirmation that I've not omitted anything.
I ask for an electronic copy of any documents presented during the meeting (if they are not automatically offered to us).
I organize a 10-minute Google Meeting with a couple of close colleagues attending the same meeting so we can review what just took place (for clarity, not criticism).
I participate in a weekly Google Meet "virtual coffee break" that I was invited to join. It is purely social, and we sometimes keep it that way!
Since the end of the Spring semester, I've spent several hours weekly texting or video chatting with several of my mass communication majors. This is what I have discovered:
Many of my students have "essential worker" jobs, so in March, they lost a sense of security and routine at work at the same time as all their classes moved online.
Many of my students, traditional or non-traditional, need emotional support.
Mass communication majors enjoy using social media; however, the physical isolation is taking a toll on their creativity and self-esteem.
Many students want a good listener more than reassurance.
There has been little time to rest or rejuvenate myself before I begin teaching my two online summer school classes next week. The "new normal" cannot be put on hold, so I can focus solely on teaching. My challenge is to find ways to sustain my mind, body and spirit in the months to come. This is what I have discovered:
I need F2F connection. (I'm not so different than my students!) I only have to look across the street where fellow AWC member and neighbor, Laura Oliveto, lives. We take walks or stand and chat across the cul-de-sac.
Having a "listener" during this crisis who is outside of my work life and my family life has helped keep me grounded and is restorative.