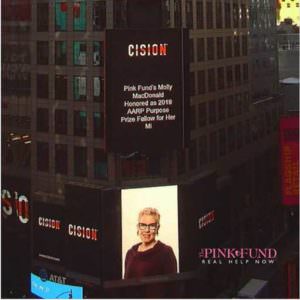 It's one thing to see your name in lights, but your photo blown up and placed on a Manhattan skyscraper? Well, ask Molly MacDonald how it feels. Her photo was prominently displayed in lights this past December as a 2019 AARP® Purpose Prize® fellow.
Molly was one of 9 AARP Purpose Prize fellows, an award citing "extraordinary people ages 50 and older who tap into the power of life experience to build a better future for us all.''
The award came with a $5,000 grant for The Pink Fund, which MacDonald, a breast cancer survivor, founded in 2006 to provide 90-day grants that pay non-medical expenses of women and men in breast cancer treatment. To date, the metro Detroit-based non-profit has provided $3.5 million in monetary assistance to over 2,289 breast cancer patients across the United States. Molly will also receive several leadership training opportunities through the grant. The highly competitive award drew 1,400 applicants.
"The AARP Purpose Prize is all about a new story of aging — focusing on experience and innovation and the idea that our aging population is an untapped resource full of possibilities," said AARP CEO Jo Ann Jenkins. "AARP Purpose Prize winners and nominees are role models. They are makers and doers who are out there creating new solutions that make the world a better place for people of all ages."
"I am truly honored to sit among a group of passionate advocates for those less fortunate than ourselves. It is a gift to be able to use the second half of my life to give back to those in need through The Pink Fund," said MacDonald.
For details on the 2019 Purpose Prize Fellows awardees, go to:
https://www.aarp.org/about-aarp/purpose-prize/fellows/?intcmp=AE-ABOUT-PP-EOA1
For more information on The Pink Fund, visit: https://www.pinkfund.org/