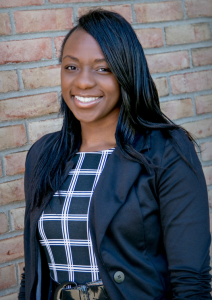 Name: Elizabeth Russell
Title: GVSU Detroit Center Coordinator
Company/Employer: Grand Valley State University
Career: I am the Grand Valley State University's Detroit Center Coordinator where I oversee and manage the daily operations of the Center, connect with local businesses to offer facility usage in the building, assist with event setups, and provide building tours to guests.
Education: I graduated from Eastern Michigan University with a B.S. in Communication and Psychology and earned a graduate degree in Communications from GVSU.
What You Should Know:
Focused on strategic communications, emphasizing strategic planning and marketing.
Creative soul expressed through event design, management, and planning.
Interior decorator/designer in the making
Mission-driven by community outreach and service
AWC Focus:
I heard about AWC by searching local communication groups. Through this organization I hope to stay current in my communication skills (specifically writing, grammar, and strategic communications), career mentorship, and simply connecting with other like-minded women. I would like to be involved by joining a marketing, event planning, program, and/or membership committee. I also hope to find the best way to publish two children's books I authored.