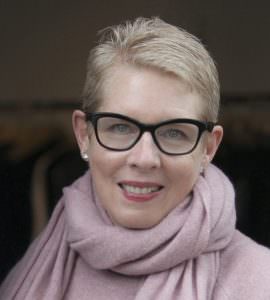 Name: Molly MacDonald
Title: Founder and CEO
Company: The Pink Fund
Mission: The Pink Fund provides financial support to help meet basic needs, decrease stress levels and allow breast cancer patients in active treatment to focus on healing while improving survivorship outcomes. Our 90-day grant program allows us to meet their critical expenses for housing, transportation, utilities and insurance.
Career: I am by education and my early career a journalist. I spent six years at the Detroit Free Press for which I remain grateful. I am one of four founders of the Detroit Free Press Marathon.
Following my 2005 diagnosis of breast cancer, I experienced what is known as cancer-related financial toxicity and met other working women who were having similar financial challenges. When I could not Get Help, I decided to Give Help. So my career is bookended by working in journalism and now in health care advocating for breast cancer patients through The Pink Fund.
Education: The University of Michigan, BA Journalism
What You Should Know:
Recent awards include: 2019 Patient Champion North America award from eyeforpharma, Crain's Detroit Health Hero 2018 and Northwood University 2019 Distinguished Woman Award.
I received the Diamond Award from AWC Detroit in 2013.
Dancing With The Survivors is The Pink Fund's biggest fundraising event. Based on its success, I presented a Detroit AWC program called "Dancing with Details: How to Stage a Successful High-Profile Event" in March 2018.
AWC Focus: As the organization grows, I am interested in mentoring younger women and learning from them.
Personal:
Hometown – Beverly Hills, MI
Family – 5 children, two stepchildren, two grandchildren. Married to my husband Tom Terrific for 17 years.
Interests – swimming, yoga, gardening, cooking, reading, writing, public speaking