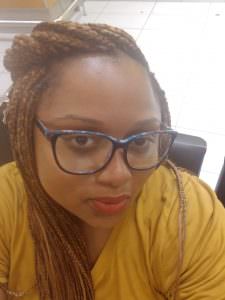 Name: Tarana Hammond (aka Ronnie)
Title: Graduate Student, Voice-Over Actor and Entrepreneur
Career: I have two master's degrees in communications and taught speech when I was a grad student at Wayne State University. Presently, I am pursuing a doctorate in business administration and seeking an academic position in the field of communication.
Education:
Bachelor's in Humanities with minor in Journalism—Tougaloo College – Tougaloo, MS
Master's in Mass Communications–Louisiana State University – Baton Rouge, LA
Master's in Communication Studies–Wayne State University – Detroit, MI
Doctorate in Business Administration–Walden University – Minneapolis, MN-pending
What You Should Know:
I also am a graduate of Specs Howard School of Media Arts and completed voice over and audio book training from another school, Michigan Voice Over Talent. I audition at www.voices.com and other casting websites 10 to 20 times per week.
I have an online boutique that specializes in bridal accessories and jewelry called Crystal Jade's Boutique. Find us on weddingwire.com and facebook.
AWC Focus:
I found out about AWC by conducting a Google search. I would like to get several things out of my membership: 1) networking opportunities, 2) professional development in the field of communication, 3) long lasting friendships, 4) continuing education, and 5) career advancement.
I am a new member of the Program Committee. I helped with the Leadership Summit and was the moderator at the Podcasting event.
Personal:
Family and hometown – Detroit
Interests–Movie-goer, dancing, shopping, traveling
Causes/volunteer service– Red Cross, St. Jude Children, Music Hall Center, Salvation Army, Muscular Dystrophy Association, Tougaloo College, LSU